As we step into 2019 and grab it with both hands, it's worth reflecting on what happened in 2018, and what marketers learnt from affiliate marketing trends in 2018.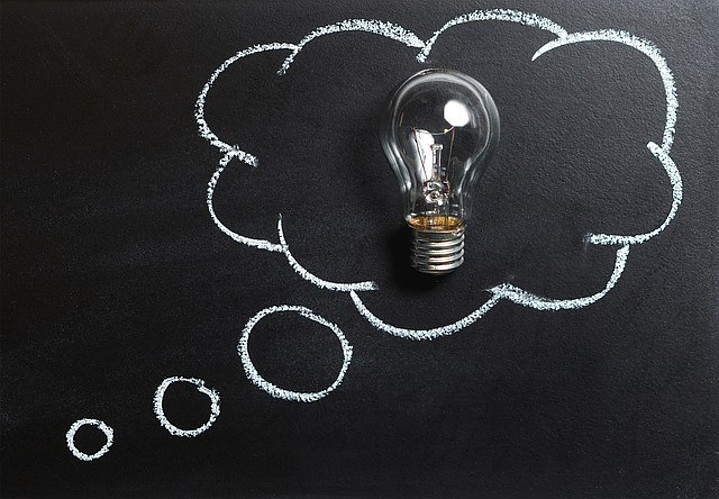 Before I continue, I'd like to acknowledge that much of what I cover here I gleaned from a live training seminar I attended online on 29 December. I try to participate in weekly live training to keep myself up to date with the latest marketing tools and techniques, and this one had so much great content I felt the need to share it with you. Hopefully for my readers who have their own blogs or websites, this post should help you in your online marketing endeavours.
*Click here for the platform that teaches you everything you need to know to set up and maintain your own successful online business*
In this blog I will cover:
What did we learn from 2018? An overview.
The evergreen strategies that worked
The evolution of the knowledge commerce industry
What is going to replace Google +
What is to come in 2019?
WIthour further ado let's get into it!
What all marketers can learn from 2018
Shiny objects don't work, as much we want them to – they just don't work!!
Shiny object syndrome relates to those things that distract us. It might be those emails we receive that promise to make us money online fast! For example: within 10 clicks you can make $1,000 a day! Here's a picture of a luxury car to convince you!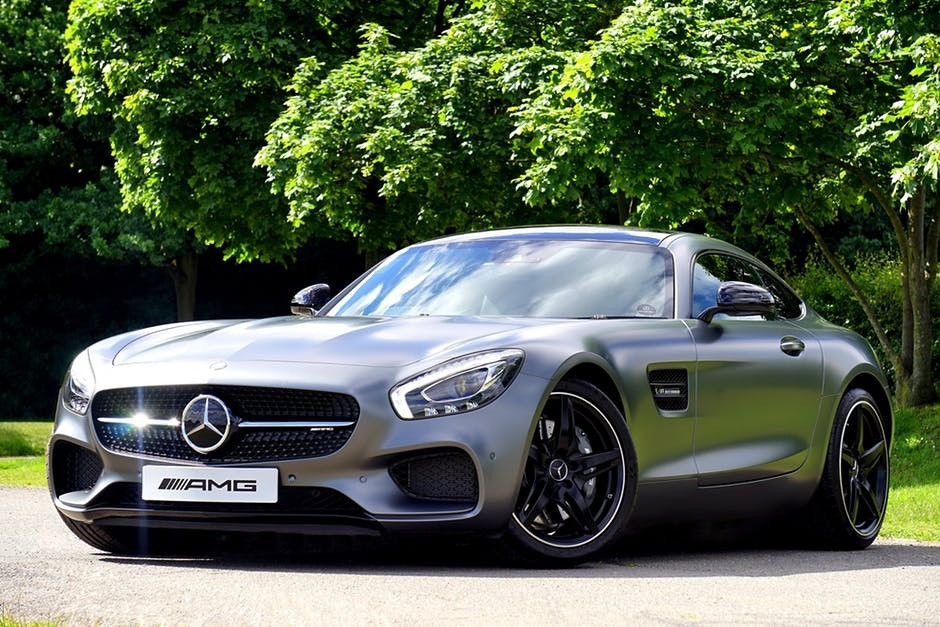 There are loads of sites that could be considered shiny objects that I discovered in 2018. Some were so bad I wrote about them under my category "things to avoid". The reviews of these shiny objects are here:
And I saw so many dubious looking 'shiny objects' that I was prompted to write about how to spot a scam:
The live training, hosted by the Wealthy Affilite live training coach Jay, gave a list of red flags to look out for. The ones that stood out for me were:
"push this button"
"cash cow"

"automated traffic"

"set and forget"

"done for you"

"earn $x daily"

"PLR" (private label rights)

"cash machines"

"goldmine" (eg. social media traffic goldmine)
"10 minutes a day"!

"fast" or "instant" (eg. instant cash daily)
Another one I noticed was "millionaire". This seems to pop up regularly and should make your spidey senses tingle.
In our nature, we do want to click on things that look like they'll change our lives for the better, but always remember that shiny objects just don't work.
Here's what does work: hard work. Hard work pays off every single time. No short cuts, and no shiny objects.
The evergreen strategies that have worked in 2018
Evergreen trees don't just spring up overnight. They grow over time, and last a really long time. An evergreen strategy is one that lasts a long time and there some evergreen marketing strategies that have stood the test of time and will continue to deliver.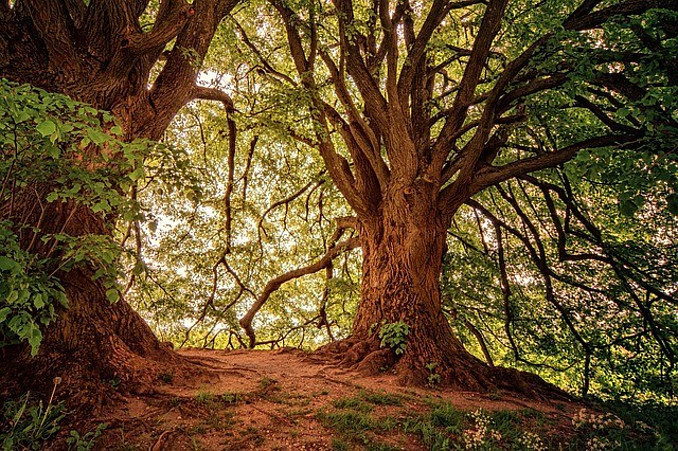 1. Content
Content is an example of an evergreen strategy. If you're in online marketing you've probably heard the expression 'content is king'. Well, content IS king, and you need to be producing consistent content. Once you've written it, it lasts a long time. It all starts with content. Without content our websites and social media are empty. Regardless of the medium being used, it's all about the content.
2. Niches
A niche is a distinct segment of a market. Niches are everywhere, and always will be. Almost anything you can think of is a niche. You can earn money online from every single niche because there are billions of people out there searching for information and solutions, and spending billions of dollars on products and services every day.
There will always be an evolution of niches.
I've written about how pretty much anything you're interested in or passionate about can be a niche for your business:
How to turn your hobby into a career
3. Keywords
Keywords and keyword research will always exist, because eople will also use search to find what they want. So regardless of what people may say, keywords are still critical.
Write posts based on one targeted keyword. Find a low hanging fruit keyword (phrase), and write a post based on that one keyword.
Jaaxy, the truly amazing keyword tool that is free and fully integrated with the Wealthy Affiliate platform, allows you to do a keyword search, and then directly turn the keywords that you have chosen into a draft article for you. You can either save those keywords for later, or start writing your content right away. It makes content writing SO much easier.
Let me show you what I mean: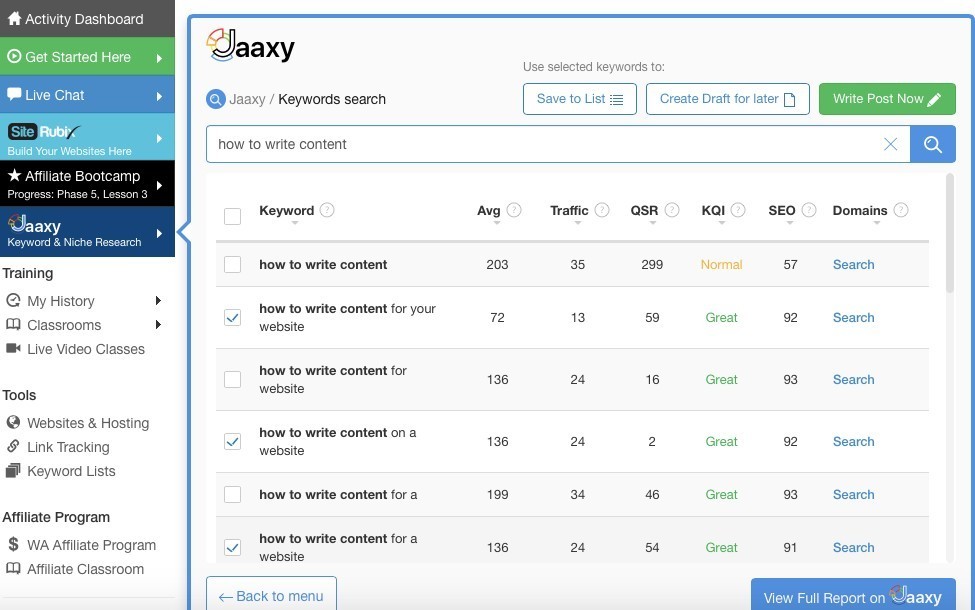 You can also save your keywords into lists so you can use them at a later date.
4. Engagement
Engaging with your audience is another evergreen strategy that workds. Readers need to see that there is a person behind the blog that interacts. It could be through comments, through YouTube video or live video, social media such as facebook groups etc. It's important to engage with your readers as they are your 'tribe'. If you don't engage with your tribe, they'll find someone else who will.
5. The techncial components of evergreen strategies that continue to prevail:
Meta titles – up to 55 characters with your one targeted keyword inside, noting that a keyword can be a phrase.
Meta descriptions – up to 160 characters to entice the person to click on your site, with your one targeted keyword.
Keyword in content above the scroll – placed the keyword in the section you see on your screen before you scroll down.
Internal links – these are very important on your sites. You should have at least one internal link to another relevant post with relevant anchor text. This helps google know about your other posts and pages. It gives google another way to cross reference your site. The links should be relevant to what you're writing about.
External links – post at least one external nlink to a relevant authority site. Wikipedia is always a good one, it's an easy one to link to. You're letting google know that you are sharing knowledge and creating additional points of reference of your content. It signals that you are not trying to hoard your traffic, and you're trying to educate your traffic.
Post to social media. The ones I love are Pinterest, Facebook, Twitter, and Google +. I've just started posting on Tumblr, and have been with Webtalk for a little while. Instagram is one I just haven't got the hang of yet, but that's one of my goals for 2019! Google+ has actually been one of my favourites, and it's always been a priority given that it's a Google product and I want my content to be ranked by Google. with commentary within the social post. However, we all know that Google+ will be closing down shortly … but I'm still going to use it until it is no more.
Email marketing will never go away. It will always be around as long as email exists! Email marketing is one of the best ways to convert readers into customers. This is a way for you to build your tribe. This creates exclusivity, which is a winner for your readers.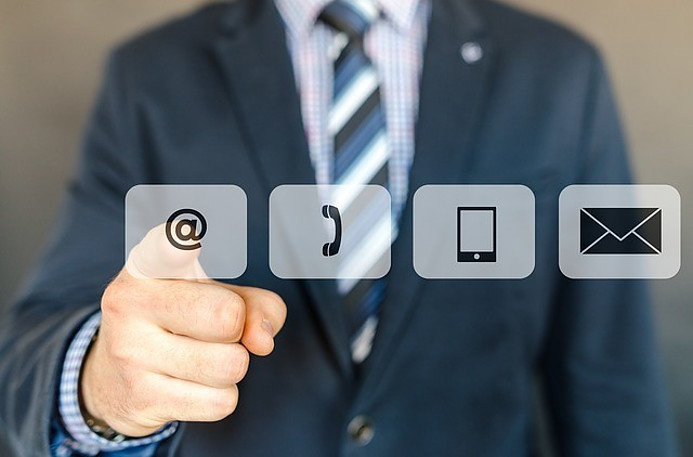 The evolution of our knowledge commerce industry
"Knowledge commerce is the serach for information in a casual educational style format" – Jay, Wealthy Affiliate Online Training Coach.
Knowledge commerce is evolving all the time, and it's important to remember that it doesn't always necessitate a monetary transaction. Knowledge commerce could include Email marketing, or a private Facebook group to name a couple of examples. Your readers are providing their personal information to receive your information. They are exchanging personal information for knowledge. They are 'paying' with their email address, their name, or possibly even their phone number.
It's important to be able to think about what you can do to use knowledge commerce with your users. It might be an email popup requesting their email address in exchange for providing training materials, or blog updates. Within those emails, there will be selling opportunities where people can buy things.
Another example is by joining a private Facebook group to be provided with exclusive information that you provide. It would also include opportunities that you can monetise the group by selling things.
You need to build your tribe and knowledge commerce is a great way to build your tribe.
What are the knowledge commerce strategies you might use to build your tribe?
What is going to replace Google+?
I don't know about you, but I was so disappointed to hear that G+ is closing down. I've always used Google+ to my advantage, by sharing all my posts there.
The words of from wisdom from Jay are that YouTube discssion may very well be its replacement.
What is you YouTube discussion?
Well, login to YouTube, then go to your channel.
Then, go to the discussion tab:

I didn't even know that was there!
Do the same thing as what you do when you post in Google +. Write some words about your post and leave a link to your post.
The discussion tab changes to the word "Community" once you reach 10,000 subscribers. Even if you have one subsriber, you will see the discussion tab.
It is likely they will evolve this area and take what was in Google + and put it in the discussion area. It should be just as effective as Google +, as YouTube is a google owned entity.
What is to come in 2019?
Prediction #1:
Mobile first. More purchasing on mobile devices. Security on mobile devices has improved, and using your phone to pay at terminals is now common place. People feel more comfortable makeing purchases through their phone via web based buying. Paying through apps is definitely more mainstream, and web broswer purchasing will increase. What do you need to do to focus on mobile first?
Make sure your site is mobile friendly, to make it a great mobile experience.
Prediction #2:
A shift to micro video blogging.
Eg instagram stories. When people are on YouTube or instagram or another source that has video, people are ingesting video in short bursts. Instagram stories and IGTV (instagram TV), or FaceBook live or YouTube. Small sequences of videos, in about 10 to 15 second bursts, with several in a row. More people will shift to do this.
Prediction #3:
All evergreen strategies will still dominate conversions.
These strategies will still convert the best. Prediction 2, micro video blogging, is not evergreen yet. Whilst it is a trend, it isn't dominating conversions yet.
Want to learn more?
For more live training gems, together with comprehensive online marketing training modules that you can work through at your own pace, suitable for any level of experience, visit my platform of choice:

You can even try it out for free to see if you like it, no credit card required. Questions and comments are welcome.
Wishing you a successful and prosperous 2019.