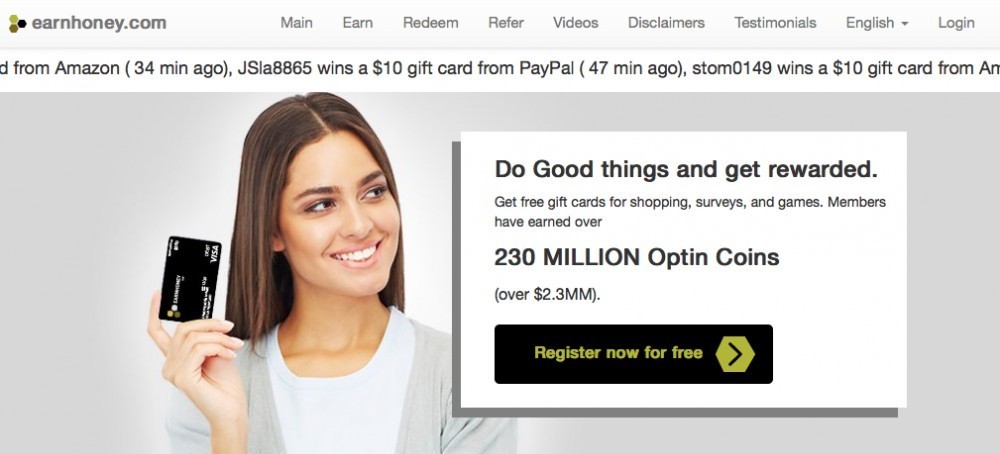 What is EarnHoney?
Let's start with the basics:
Website: https://www.earnhoney.com
Legitimate: Yes
Cost to join: free
Available to the US only, and branching out to the UK and Canada
Recommended: Yes – but only for some extra pocket money in your spare time
The buzz around EarnHoney – my EarnHoney review
EarnHoney is a 'get paid to' site. There are various ways to earn including through shopping, games, surveys, and referring friends. The currency within EarnHoney is HoneyDollar$ (although this is transitioning to OPTin coin, coming soon). You earn at your own pace and then redeem your HoneyDollar$ for free reward items in the gifts store or will be eligible to be sold on a crypto-exchange (once transitioned to OPTin coin).
The site is not particularly visually appealing (at least to me, anyway), and I didn't feel like I wanted to spend much time browsing through the site. You may feel different though.
How much can you earn with EarnHoney?
This is always an interesting question with get paid to sites. The payout is typically quite low for the time spent doing the tasks. It's important to know this up front – you will not be making loads of money, and at times you may experience frustration at the low earnings. That's why you should only ever treat this as a 'do it your spare time' activity.
The amount you will make depends on the task you will be doing, and the amounts will vary.
Let's take a look at this game: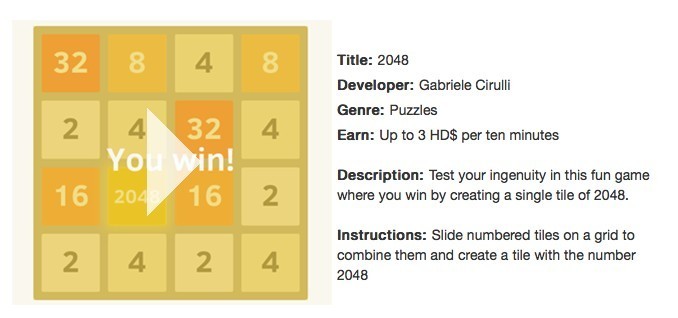 In this game, you will 3 HoneyDollar$ for approximately ten minutes of your time. This is equivalent to approximately 3 cents. So you could be playing for a while before you start to see anything tangible … However, if you are going to be playing games anyway, then it can't hurt to earn a bit on the side while you're playing.
You can also watch videos and earn if that's your thing: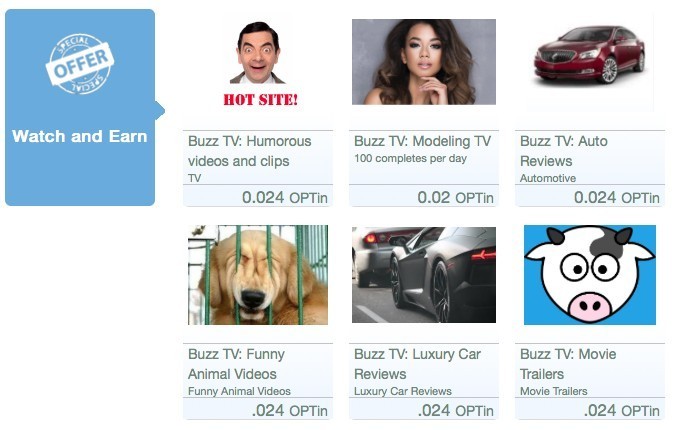 Surveys might earn you up to about $2 per hour for your time. With that being said, like many survey sites, you won't be eligible to participate in them all because your demographic information may prevent you from qualifying. So you may end up losing some of your time in the process of finding out whether you actually qualify.
You can cash out for gift cards when you reach 48.5 OPTin ($4.80) for a $5 gift card. As far as get paid to sites, that's quite good. Given that it is hard to accumulate enough points to cash out, a threshold of $4.80 is pretty good. Sites that typically have higher pay out thresholds often don't end up paying out, because people have a tendency to give up before they reach the threshold.
The EarnHoney Referral Program
You can invite friends and your social media networks to join EarnHoney via their referral program. When your referrals earn, you earn 10%. Not bad! In my view, the referral components of these programs are the best way to earn as it provides a passive income opportunity for you. There is the opportunity to share to Facebook and Twitter directly from the platform with your unique identifier: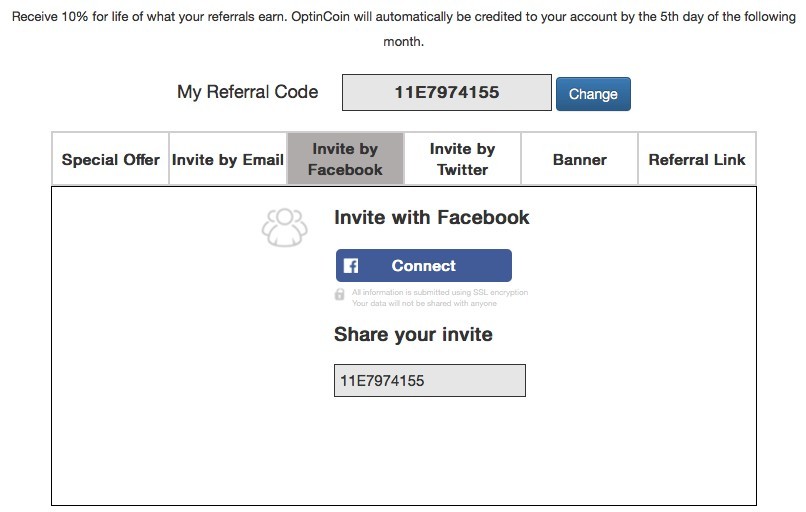 Is EarnHoney legit?
If you like get paid to sites, EarnHoney is an easy way to make some money from the comfort of your own home. Answering surveys, watching videos, and completing tasks and offers can be pretty enjoyable tasks to do.
EarnHoney is legit, and they do cash out. However, you will not earn very much. I would only recommend this site if you want to take some time out and do some mindless activities that have the added bonus of getting you some pocket money. If you join specifically for the purpose of earning money rather than having fun, there are better sites to do it in my opinion. This includes less 'gamey' sites such as Mechanical Turk, Clickworker and Upwork.
With EarnHoney, you can participate independently, and according to your own schedule. For anyone who wants to test whether you can really make money online, this is a good introductory way to confirm that you can.
EarnHoney might appeal to:
Students with spare time
Anyone who enjoys surveys, offers, games and videos and likes to do this in their spare time anyway
Anyone who wants to test the 'make money online' model
Anyone who wants to expand their affiliate marketing efforts through the referral program
If you're looking for some extra money and some fun along the way, then EarnHoney might be worth checking out. Just don't expect too much!
For many people, the payout just won't be big enough for the time taken to complete the tasks.
There is a much better way to make money from home
For a great way to make real money online, not just pocket money, my preferred method is through affiliate marketing. In my view, this is the best way to build a lucrative and consistent income from home.
If you are looking for a more substantial and long term way to make real money online, have a look at my top choice:

If you've found any other great ways to make money online that have worked for you, then please share your experiences! I'm always interested in hearing about legitimate platforms that help people make money online. I like to be able to share what works!