My review of Clickworker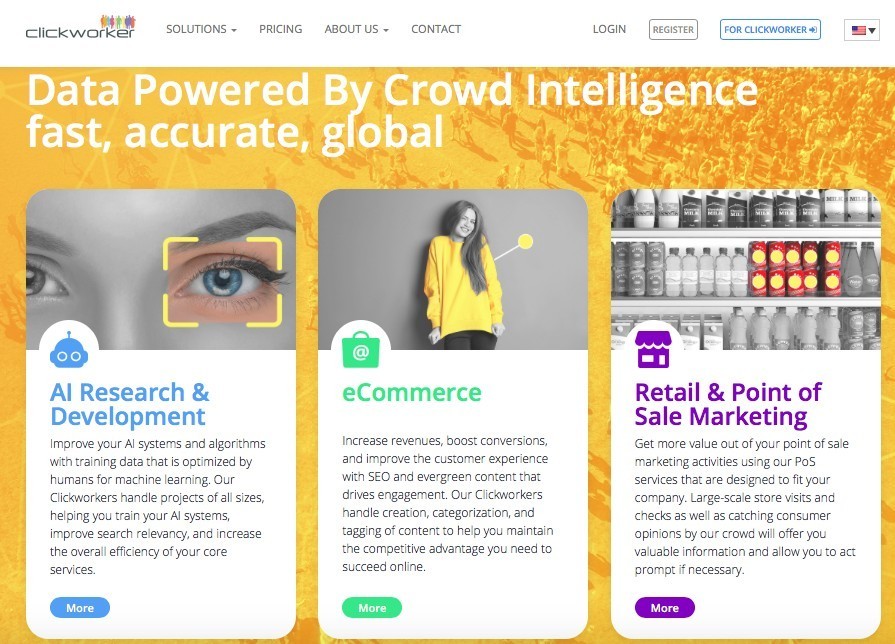 Clickworker is a combination site that allows you to make money by creating or correcting texts, participate in surveys or search, and categorising data. The tasks are typically quick and fairly simple. You can also make money through referring the program to others.
You will need to complete a prequalification language test. The test consists of 72 questions, and you need to achieve at least 95%. You cannot repeat the test, so it's important to read the questions carefully. Whilst it says that test may take up to 40 minutes, it only took me less than 15 minutes.
Signing up to Clickworker
To get started with Clickworker, login to their homepage by inputting your name and email address, and creating a login and password. You'll then need to verify your email address, and you're ready to go. It's straightforward and will only take you a couple of minutes.
There are no sign up fees.
You need to complete some additional information about yourself, such as languages you speak, and your proficiency in them, together with your hobbies.
Before you can start any projects you will have to, in some cases, complete an assessment to a required standard. The assessments you are offered will depend on the way you answered your profile and previous results as well as your work experience.
When you first sign up, complete all the assessments. This will help to maximise your earning potential as it will result in the most amount of jobs becoming available to you.
The types of tasks you can expect from Clickworker
The range of jobs available in Clickworker is varied and interesting: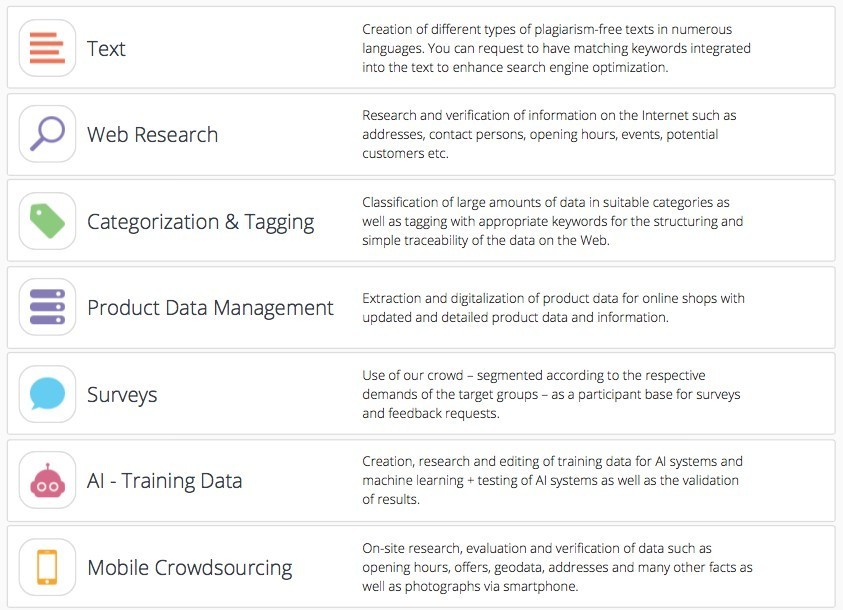 There may not always be jobs there for you to do. That may be because you might not be qualified for the projects because you haven't completed the assessments, or because your score did not meet the standard required. There might also not be many jobs available. This can be a downside to sites like Clickworker, where there simply may not be enough work to keep up with the demand. This can be very frustrating for a worker who is ready and willing to complete tasks and there aren't enough available.
The tasks vary in length from project to project. All tasks display a countdown timer with the remaining time on the page. The job needs to be completed before the time runs out. If the time does run out, the job will be canceled and lost for you.
There is a section called UHRS which stands for Universal Human Relevant System. It is a separate website that is similar to Clickworker, offering micro jobs. Registered users of Clickworker have access to UHRS jobs, and payments are made via your Clickworker account. UHRS is only available once your assessments are done, and it is where the best jobs are.
Ensure you complete high quality work
Clickworker is paying you real money for real work, so it's important that your work is high quality. Don't speed through it thinking you're going to earn $100 an hour, because you won't. You will earn more the better you perform. Clickworker checks the quality of your work, and if it's below standard, then payment will be withheld until the errors are fixed. If they are not fixed, you have the lost the job and it will be reissued for someone else to do.
How much can you earn using Clickworker?
Well that is up to you! It all depends on the projects you do and what is involved, and the time it takes you to complete the projects. The faster and more straightforward projects pay less than the longer and more complex ones. The fee is calculated taking into consideration the level of difficulty, the length of the text, the amount of research involved or special knowledge skills required to fulfill the job.
The method of calculation doesn't change, however the faster you accurately complete the projects will result in a higher wage by virtue of you being able to complete more projects within a time period.
Clickworker referral program
Another way to make money using Clickworker is to recommend your friends or acquaintances who might be interested in working at clickworker. For each new Clickworker you get to join, you'll get a referral bonus of EUR 5.00, once that new Clickworker earns EUR 10.00. It takes less than a couple of hours to make EUR 10.00, so it isn't hard to earn the commission.
You can also get your commission quicker by ensuring that others know to complete all the assessments when they sign up to maximise their earning potential. So be sure tell your referrals that.
Making money through affiliate referrals is an excellent way to earn passive income. You are making money passively through the work of others. So sign up to Clickworker and start sharing your affiliate links!
Payment for your hard work
In order to be paid through Clickworker, you need to select your payment method. This can either be PayPal, or payment to your bank account.
If your preferred payment method is PayPal, then you can cash out once your account has reached EUR 5.00. PayPal payments can be made weekly provided the threshold is met. For payments going direct to your bank account, the minimum in your account must reach EUR 10.00. Payments to bank accounts are made on a monthly basis provided the threshold is met.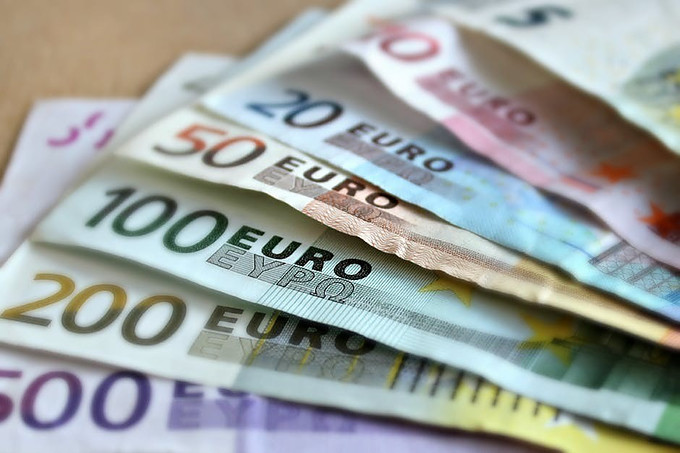 Is Clickworker worth it?
Based on my experience of the site, and the research that I've done, Clickworker is worth it. Clickworker is a legitimate site, it is not a scam, and you can absolutely earn money from it. For people who don't like doing surveys, or doing tasks that are more like games and competitions, then you will find Clickworker more rewarding. It is similar to Mechanical Turk which I've also written about.
You can work independently, and according to your own schedule. For anyone who wants to test whether you can really make money online, this is an excellent introductory way to validate that you can.
Clickworker might appeal to:
Anyone who needs to supplement their income
Students
People who have mobility issues
Anyone who wants to work from home, and on their own schedule
Anyone who wants to expand their affiliate marketing efforts
People who are between jobs
Anyone who wants to work online
People who are unable to work in an office environment (or who have no desire to!)
If you are looking for a more substantial and long term way to make real money online, have a look at my top choice:

Please leave any comments or questions below and I'm always happy to help. If you've discovered any other great ways to make money online that have worked for you, please share your experiences!