All you need to do is a social media search on "easy ways to make money at home" or "how to make fast money online" and you will be inundated with rubbish programs and get rich schemes that will at worst rip you off and take your money, and at best waste your time and leave you feeling frustrated and no closer to where you want to be.
There are real ways to make money from home, but they're certainly hard to find when you start your search.
Many of the facebook groups out there dedicated to work from home opportunities are filled with work from home scams.  People will tell you how to make money from home for free by doing nothing (???) um ……. ok ……. Those groups are full of people making absolutely ridiculous claims about various schemes that are shonky at best.  Most of the people within those groups are bogus accounts that have been created for one reason only – to lure you in and scam you.
But there is a picture of a handful of cash. Must be legit, right?
You will see people holding handfuls of cash as 'proof'.  You will also see screen shots of bank deposits to convince you that they are legit.  Whilst a few of them might be, the vast majority are scammy.  At best you might earn some pocket money on a few for a short while, until you've got no more 'friends' to refer.  (Do friends really do that to each other??  I guess that's another post). Those groups are nothing short of depressing.  For your own sanity, don't join those groups!!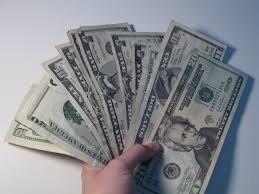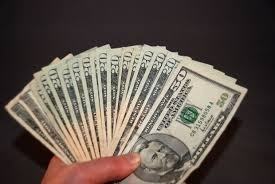 People who genuinely make good money don't post handfuls of cash online.  That's a give away right there.  Most of them won't even show you their face, only a pile of cash.  Yep.
You might be left asking yourself "are there legitimate work from home opportunities?"  You bet there are legitimate opportunities out there.  If you are looking for opportunities to work from home, there are a few things you need to know first.
Some truths about legitimate work from home jobs
There are a number of things that you must realise when you are thinking that you want to work from home, or get a job from home:
You will not make decent money overnight.
You have to work hard to build it.
Working from home needs to be treated like a full time job, if you are wanting full time income.
You need to put the time in to learn how to do it properly. This may include online training if you're new at it.
If it sounds too good to be true, it most likely will be.
If you have to provide your banking details, you will be scammed.
If it sounds like easy work for a big pay off it is a scam.
If you have to invest money up front think very seriously about it first, and research reviews of the company.  Anything you pay up front you need to be prepared to lose if and when it goes pear shaped.
Nothing that sounds magical and easy will fall into your lap that will solve your financial problems.
Beware of these 'opportunities'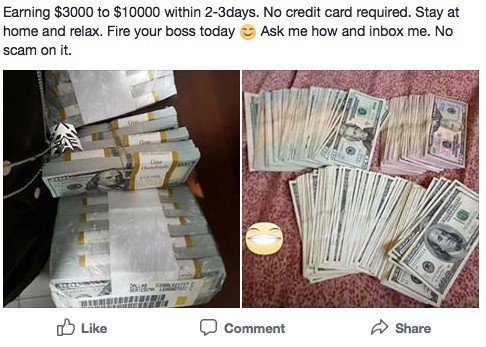 Yes I'm sure this person really made $10,000 in 3 days by relaxing at home.  And I'm sure these images of money is really their own money. Right!!  I should go and sign up right now!!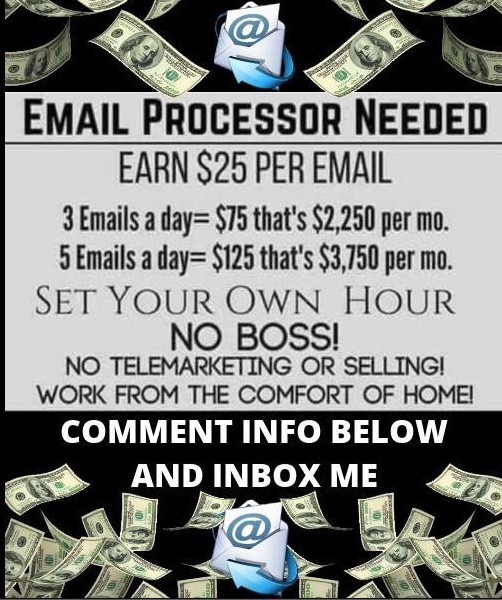 And the good old 'processing emails from home' scam.  What does 'processing emails' even mean?!  Do they really expect us to believe that you can send emails and generate money, just like that?  I've looked into this one and it's a scam through and through.  There is not even a 'product' here.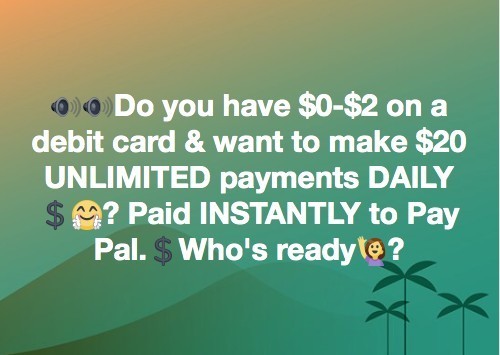 Messages like these ones are a dime a dozen on social media. They usually involve you getting all your friends to sign up to something they don't really want to sign up to, and you pushing this onto whoever you can to get their referral.  Don't be that person.
If somebody says you can earn hundreds of dollars a day by texting people, YOU WILL NOT earn hundreds of dollars simply by texting people.
Do not be sucked in to ridiculous claims about being paid massive amounts of money because you have Facebook friends. While you might get yourself some change, you aren't going to be retiring any time soon.  I'm not saying don't sign up to things to make some extra cash – that's up to you.  But you do need to realise these are short-term solutions for small amounts of money.
There are legitimate careers that you can establish for yourself from home
There are legitimate careers (notice I say CAREERS and not jobs) that you can build for yourself over time.  It's not going to happen by referring your friends to get paid for taking selfies (yes that does exist). Sigh.
Dropshipping is an interesting model that you may want to research further if you are interested in your own e-commerce store. It is a low risk, minimal investment option that you can get up and running fairly quickly.  No inventory is required, just the know-how to set up a website. Wealthy Affiliate can walk you through the process of establishing a website and buying a domain.
Affiliate marketing is the BEST way to establish a legitimate, online profession from home.  You can create a long-term business that is YOURS, that you can grow over time and build into a sustainable and lucrative business.
Build your own affiliate marketing website!
Did you know you can build your own website in about half an hour? In fact, anybody can. This is not reserved for 'other' people. Everyday people like me and you can have our very own websites, that earn revenue. Just think of the potential right there. You don't even have to stop at one website! Once you've got one website up and running and earning, you can build another .... and another. The sky is the limit!
Wealthy Affiliate will show you how. Wealthy Affiliate is the platform that taught me how to build this website. If you want a real career working from home, not annoying pocket money schemes, then do it now. You won't look back. If I can do it, anybody can.
Leave me a comment or a question below and I'm always happy tp help.