Having an online business from home means that my 'office' is anywhere I want it to be. In fact, you can work from anywhere in the world online. As someone who loves to be out and about, making money from home gives me the freedom to explore, visit new cafes, and visit different parts of the city.
Being the middle of winter, I'm still getting out but find that I prefer to work indoors. My favourite places to work, other than at home, are new cafes. I'm spoiled for choice where I live. Melbourne knows coffee, and there are an abundance of cafes that I know will never disappoint. Chapel Street and Fitzroy Street are my consistent favourites.
Chapel Street Cafes
I have loved going to Chapel Street since I was a teenager, and I still love Chapel Street. It is always evolving, and new cafes and restaurants seem to spring up all the time. I'll often walk down Chapel Street and find something new. If I have my laptop and it's not too loud I'll often stop for a coffee and get some work done.
City Cafes
I don't explore city cafes as much as I should. There are some AMAZING cafes in Melbourne. Some real hidden gems. One of my favourites is Toby's Estate on Flinders Lane. Always great coffee and a good atmosphere.
Exploring Melbourne's Southbank
I took advantage of a beautiful sunny Sunday afternoon to explore Melbourne's Southbank. It had been a while since I'd been there so I took the time to walk around, watch some buskers and enjoy some food. I had my laptop so I found a space and worked as I watched what was happening around me.
Thousands of others were taking advantage of the beautiful day, and travellers from all around the world were looking at Melbourne in awe. It reminded me that we often take our home cities for granted. We forget how special they are. We walk past the sculptures, the outdoor art, the open spaces, the river banks. We often don't take the time to stop, reflect and enjoy what's around us.
So my day at Southbank felt like a gift. I reconnected with a part of the city that I love.

After spending several fabulous hours at Southbank, I decided I'd visit the Melbourne Aquarium. I hadnt been there for ages and forgot how much I loved it.
I've also spent countless hours working at my children's favourite indoor skatepark, next to a heater with a blanket! They want to stay for hours, and when I'm not watching them and taking videos I do research and writing. It's the best of both worlds.
Why work anywhere else, other than where you choose?
You too can enjoy a home office from wherever you want, whenever you want. It might be from the comfort of your own study, bedroom, lounge room or kitchen table. It might be outside in your backyard or on your balcony. It might be at your local library, favourite cafe,  your local park, or at your child's sporting activity. It might even be in another part of the world, on the bank of a river, at the beach or on a ferry. The fact is, it's up to you – work from home or anywhere in the world!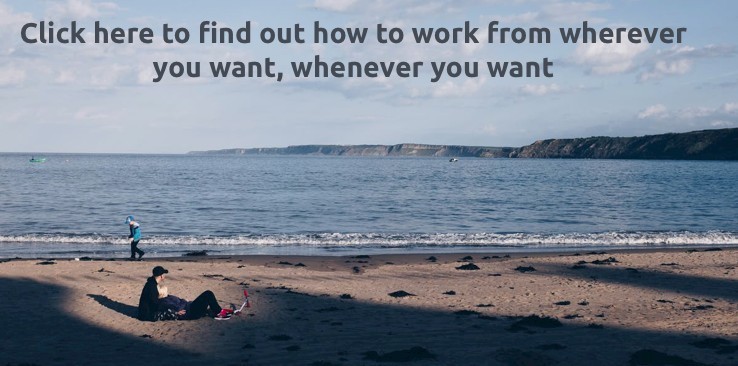 You have nothing to lose!
Drop me a note.  Where is your favourite office location?