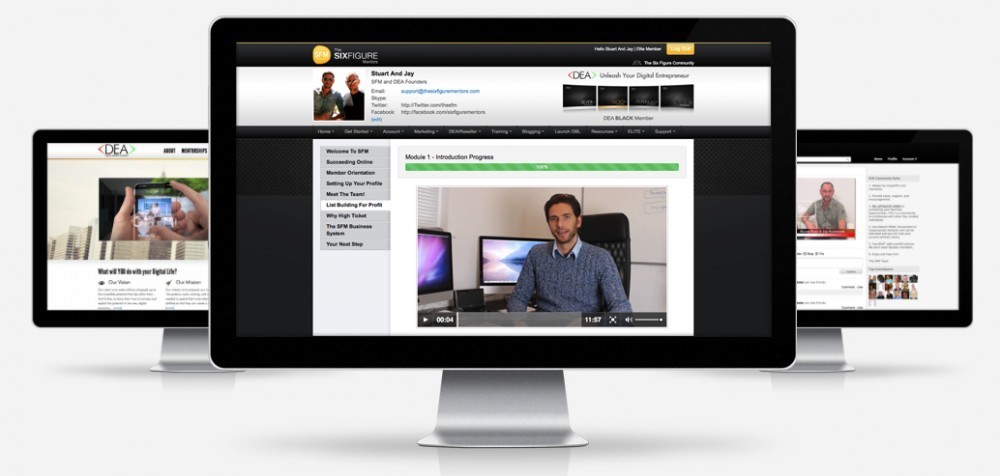 My Six Figure Mentors review 
I'd heard a lot about Six Figure Mentors and researched it to see if it was something I was interested in to take my business to the next level, and whether it might represent an opportunity for you, my good readers. 
I have to tell you it was one of those ones that I wanted to be awesome. I had really high hopes for this! Before I delved into the website I found a few reviews from other people to see what the general thinking out there is about Six Figure Mentors. I have to say what I found was fairly mixed – I found reviews that said it was a scam (it is not a scam), and those who raved about it, and those who were in the middle.
You may have come across Six Figure Mentors and heard that you can make significant money online with Six Figure Mentors. Hopefully this Six Figure Mentors review provides some insight for you before you make a firm decision.
My Six Figure Mentors review will take you through the following sections:
What is Six Figure Mentors?
How Six Figure Mentors works.
How much does Six Figure Mentors cost?
Is Six Figure Mentors a scam or legit?
My recommended way of making money online.
What is Six Figure Mentors?
Here is some basic info:
Website: https://thesixfigurementors.com
Brought to you by: Stuart Ross and Jay Kubassek
Price: $25 per month; or $297 plus $97 per month; or $2,500 per year plus $97 per month; plus the cost of essential tools with monthly fees
Recommended: No, there are much better value options
My first imprression of the Six Figure Mentors website was that it's a slick and great looking site. They introduced the founders of Six Figure Mentors, together with the team of support staff which gives you a feeling of confidence and transparency about what they're doing. I cannot say the same for many other online offerings, so I was off to a great start.
Six Figure Mentors describes their offering as "the tools, training, resources and community support to help you succeed in the online arena". 
They provide access to over 6,500 e-Learning courses in Business, Marketing, Creative and Technology.
They say that "at each step of your training, you'll get the guidance, education and tools to take your mindset and business venture to the next level, giving you the momentum to begin earning online revenue as quickly as is realistically possible."
How Six Figure Mentors works
The Six Figure Mentor business system is a digital business system that includes:
Step-by-step training
Exclusive private community membership
Your personal system consultant 
A dedicated system support team
Weekly training webinars
Live events
The Digital Business Lounge offers a platform that lets you create websites that are fully hosted. And their Simple Lead Capture helps you create a lead capture page.
So far I'm thoroughly impressed and I'm wondering what it's going to cost me, and which levels of membership unlock the various system components. 
How much does Six Figure Mentors cost?
According to the website there are three levels of membership. Pricing seems to be difficult to find though and I really have to dig around for that ….
1. Student 
Firstly, there is the "Student" membership which includes a free 30 day test-drive. I couldn't see this written on the website (I may have missed it) but my research indicates that the student membership is $29.95 per month thereafter if you remain a member. 
Student members can access the members-only area, which includes a digital business system introductory module, and access to a one on one consultation. 
2. Essential
The next level is called "Essential" and has a $297 enrollment fee plus $97 per month. (That's $1,461 in the first 12 months).
There's a lot more available to you in the platform than the Student level membership, particularly in terms of training including live recordings, digital business system modules, additional curriculum, training library, webinars and a private Facebook group.
3. Elite
The Elite level looks to the highest level and comes with a sizable price tag. It's $2,500 per year plus $97 per month. That's $3,664 per year. The Elite membership gives you everything in the Essential package plus system set up configuration and exclusive webinars featuring prominent leaders and experts sharing knowledge.
Here's a summary of the membership levels and what they include: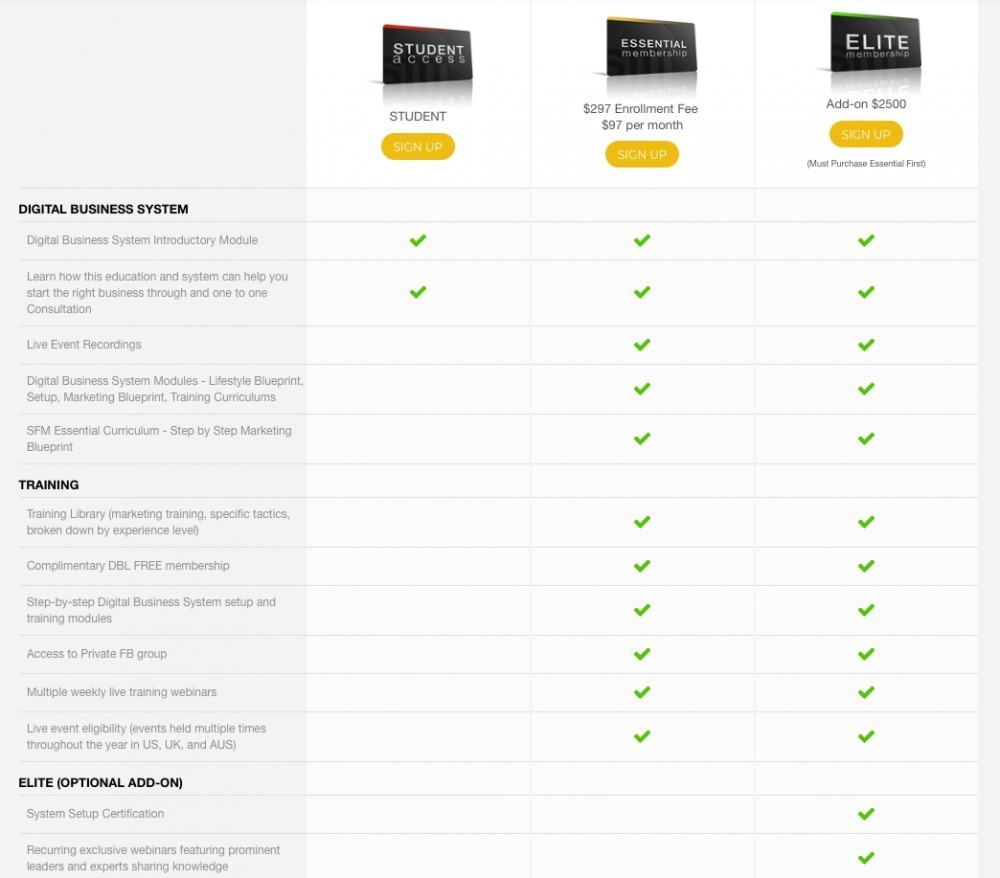 Affiliate access and affiliate program
There is also a free affiliate access level, although this is very difficult to find on the website. Again I think this is intentional – they do not want to broadly advertise that you can make money from promoting this.
You can sign up to be an affiliate and can promote Six Figure Mentors and receive a commission on any sales made through your affiliate links. 
Commissions are simple: They pay $20 on "Introductory" Sales and $200 on "Essential" Sales. They also pay $20 per month on active membership subscriptions.
The tools used by Six Figure Mentors
1. Digital Business Lounge
Apparently you do need to pay monthly fees to use the Digital Business Lounge, and it is NOT cheap. Here's a rundown of the prices: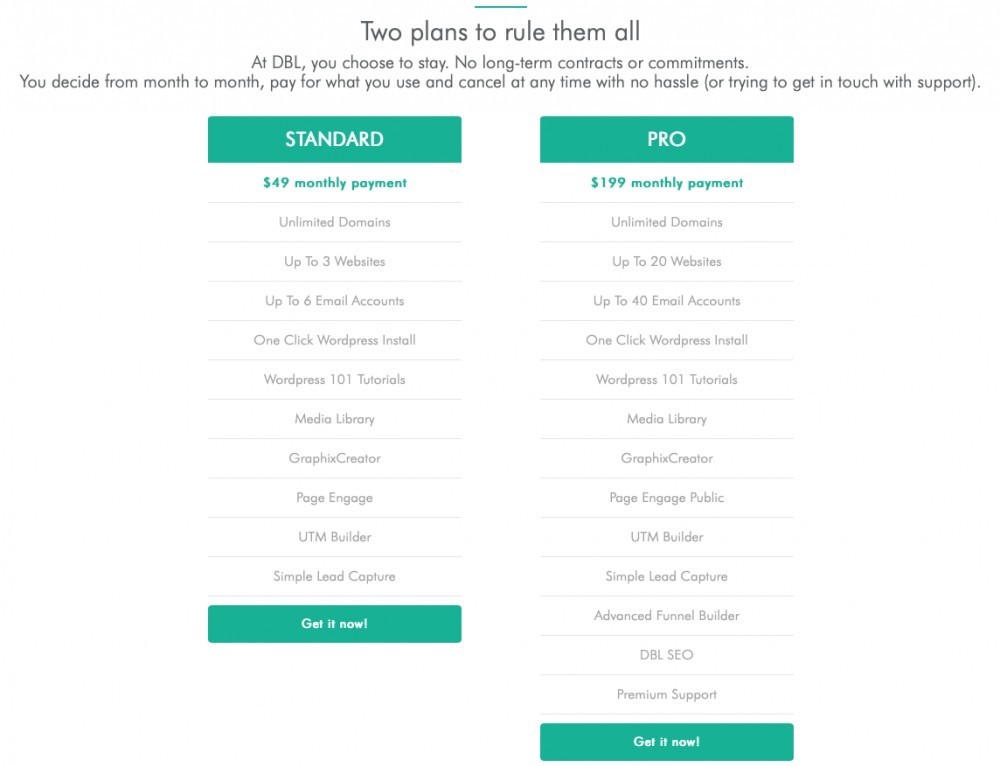 This is not something that is mentioned on the website. The standard membership of $49 per month is a whopping $588 per year.
2. Simple Lead Capture 

Whilst the Simple Lead Capture tool is free, it can only be integrated with Aweber as the autoresponder tool, which has its own fees:

Aweber is actually a great tool, and thousands of online businesses use it to communicate with their online customers and community. I'm just highlighting that there are costs involved to use Simple Lead Capture which are not immediately apparent on the website.
Let's say you go with the lowest subscription to begin with of $19 per month, that's a total of $228 per year. Add in your Digital Business Lounge fees and together they total $786 per year.
Hmmm. There's still something not quite right.
I'd always thought that Six Figure Mentors was more expensive than $2,500 (even though I do think $2,500 is a lot of money for this kind of product!). I'd thought we were talking more like $10,000-$20,000, but I don't see more expensive options on the site. 
I wondered if they'd dropped the price. My gut told me they hadn't, so I did more searching.
It turns out that the Six Figure Mentors founders also developed Digital Experts Academy, a mentorship and coaching program that is associated with Six Figure Mentors. It is the 'next level up' from Six Figure Mentors.
Digital Experts Academy (DEA)

DEA has a separate pricing structure that is not discussed on the Six Figure Mentor website, although DEA is mentioned on the site.
You need to have joined Six FIgure Mentors before joining DEA.
Website: https://digitalexpertsacademy.com
DEA has four levels. The prices are very difficult to find on the website, and I can only think that is intentional. These are the levels:
DEA Silver "Transition to full-time self-employment". $2,500, offers online training.
DEA Gold "Building real muscle as a business owner". $8,000, offers a 12-month online program and a 3-day bootcamp. 
DEA Platinum "Create a brand the world wants to know about". $11,000, provides a website and branding training, and a 3-day workshop.
DEA Black "Super star league for passionate entrepreneurs". $20,000. Includes a ticket to the annual retreat.
That is some serious money for training.
From what I gather from members (and ex-members) is that you pay for each level up to Black (i.e. you don't just come in pay $20,000 for Black, you need to work your way through the levels, including paying for them, until you reach Black). 
I had to snoop around the website until I found the following summary of affiliate commissions for both Six Figure Mentors and DEA: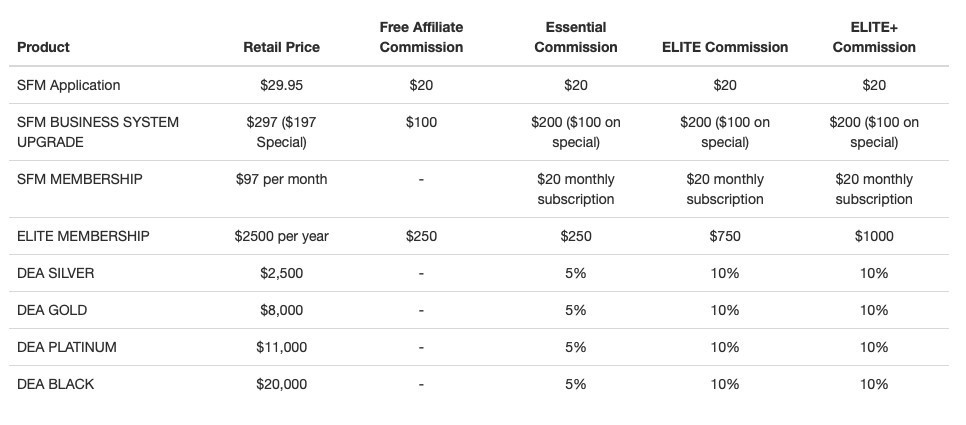 Source: http://help.thesixfigurementors.com/being-an-sfm-affiliate/the-sfm-affiliate-program-faq
The main way that people make money from the system is by promoting it to others. There is nothing wrong with that. In fact that's how affiliate programs work – you promote products to other people. I think as long as you believe in those products and see a genuine value and benefit in those products then there is nothing wrong with this kind of model.
Whilst you don't HAVE to promote Six Figure Mentors and DEA to make money, from what I gather that is the preferred model and members are encouraged down that path.
Is Six Figure Mentors a scam or legit?
I have absolutely no doubt that people can make a lot of money with Six Figure Mentors and with Digital Experts Academy.
In fact I'm sure there are a few that have made a very lucrative living from it. On the flip side, like many of the other high ticket programs like this, Prosperity of Life for example, there would be many who don't make any money from this. 
That in itself does not make it a scam. It's the nature of this kind of program. So I have to say that the program is legit. I will throw in some cautionary words though. 
The cost to join is very high, and you don't genuinely get to see the system before handing over your hard earned money. With DEA for example, the only way you get to start is by paying $2,500 for a system that you haven't seen. I don't know about you, but I have no interest in doing that. Don't forget to add in the cost of the essential tools that are largely hidden from you on the sign up pages.
What I hear from members and ex-members is that there is fairly strong pressure to upgrade to the next level. And, like other MLMs, your income is tied to the level you've bought into. 
There are many red flags with this system. I would stay away from this based on their pricing and other tactics that don't sit well with me. The training may be quality, I don't know. This wreaks of manipuation and hidden costs and upsells at every turn.
There is an excellent way to build your online skills and make money online, without the price tag
I never underestimate the value of learning and development. Whether you're starting on your online journey or are a seasoned professional, you always need to be refreshing your skills and learning the latest techniques. You don't have to pay thousands upon thousands of dollars for top quality, comprehensive training. And you should also not be obliged to resell that training in order to make your business successful. If you believe in the training, that's a different story. 
If you are looking for a substantial and long term way to make real money online, and be taught how to do it step-by-step, you can't go past my preferred platform. It allows people to sign up for free to have a look around and see if you think it will be a fit for you. The first ten modules of training are free, and you get two free websites with hosting so that you can start to pur your learning into practice.
What you see is what you get. Nothing hidden, and nothing over promised. There are no upsells. I personally use this platform and it is a genuine way to learn how to make money online the right way, using legitimate techniques and methods. Read all about the platform together with details about the extensive trainng and other benefits, together with the pricing. With this platform, you do genuinely get to see the platform and what it offers so that you can make an informed decision as to whether you do go for the premium membership whereby ALL of the training is available. It is the only membership level available other than the free starter membership.
There is just no comparison! 
If you want a transparent and honest way to learn how to build an online business, you should create your free starter account and take it for a test drive to see for yourself.
If you have any comments or questions please leave them below and I'm always happy to help you out.