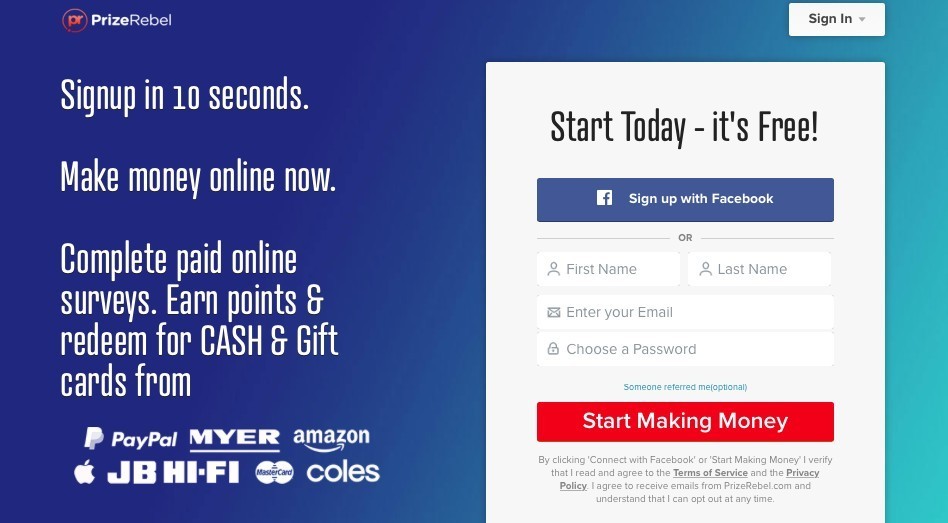 What is PrizeRebel?
Let's start with the basics:
Some key PrizeRebel statistics:

PrizeRebel is primarily a survey site, but what other ways can you earn money with PrizeRebel? Let's find out in this PrizeRebel review.
PrizeRebel Review
PrizeRebel works with the biggest global market research companies to provide their customers paid online surveys that you can complete to make money at home and earn gift cards. If doing surveys isn't always your thing, there are a few other things to do as well to earn money online, such as watching videos, doing tasks, completing offers, and participating in raffles and contests.
Signing up only takes a moment, and it is free.
1. Click on the sign up button and fill out the form with your name, email and chosen password.
2. Check your email, click the validation link and you are ready to make money online.
3. Answer surveys, sign up for offers or watch a few videos to earn points. Redeem points for a reward that you want. Simple!
There's loads to do in there, so I suggest you sign up and get started. Have a look around the platform and see what takes your fancy.
Each task you do isn't worth very many points, so this is all about volume. If you're going to be watching videos, then I suggest you might to have them on in the background while you are doing other things.
Earn money with the PrizeRebel referral program
Like many other survey sites and get paid sites, PrizeRebel have a referral program. You should all know by now that I love a referral program! Referral programs, or affiliate programs, are in my view the best way to generate passive income. So I was rather happy to learn that PrizeRebel too have a referral program.
Here's a short video explaining the PrizeRebel referral program:
The referral program earns you 20% referral points from anyone that you refer, with no caps in place.
There are some banners available with your embedded prizerebel promo code (or affiliate code) that you can use to promote PrizeRebel on social media and other forums of your choice.



Can you make money with PrizeRebel? Getting paid for your hard work
PrizeRebel offer a range of electronic and physical gift cards from Amazon.com, eBay, Target, Starbucks, and many more of your favourite brands. PrizeRebel offer game codes for popular games like League of Legends and World of Warcraft, or gift codes for XBOX Live and Playstation Network.
Once you've earned your points you can also claim Amazon.com items straight from Amazon.com, and PayPal cash. PrizeRebel also have direct bank deposit.
Processing of all reward claims will be completed around 24 hours from the time you redeem your reward. If you are gold level or higher, it will be processed within 5 minutes unless the reward is out of stock.
eGift Cards or other rewards that are emailed will be emailed within 24-48 hours directly from the brand name merchant containing your gift card, or instructions to retrieve your gift card.
Gift cards that are shipped will take anywhere from 7-10 days depending on the merchant's chosen shipping method and location.
A $5 gift card will require 500 points to be redeemed. That will add up to quite a few tasks, but if you've got the time to do it and you'd like to earn some money, then why not?
Is PrizeRebel legit?
If you like get paid to sites, PrizeRebel is an easy way to make some money from the comfort of your own home. Answering surveys, watching videos, and completing tasks and offers can be pretty enjoyable tasks to do.
PrizeRebel is absolutely legit. They have paid out over $16 million to their large user base. If you want to make some quick money online, you should definitely give them a try. Like most other sites similar to PrizeRebel, don't give up your day job to do it, as you won't earn loads of money, but you will earn some pocket money, and you might have a bit of fun too.
With PrizeRebel, you can participate independently, and according to your own schedule. For anyone who wants to test whether you can really make money online, this is a good introductory way to confirm that you can.
PrizeRebel might appeal to:
Students
Anyone who wants to supplement their income and doesn't mind surveys, offers and videos
Anyone who wants to work from home, and on their own schedule
Anyone who wants to test the 'work online' model
Anyone who wants to expand their affiliate marketing efforts through the referral program
If you're looking for some extra money and some fun along the way, then PrizeRebel might be worth checking out.
For lots of people, the payout just won't be big enough for the time taken to complete the tasks. If you are looking for a more substantial and long term way to make real money online, have a look at my top choice:

I love to help people build confidence to know that there are ways to make money online that are legitimate and can work for them if they choose. If you've discovered any other great ways to make money online that have worked for you, then please share your experiences! I'm always interested in hearing about legitimate platforms that help people make money online.