Make money online writing articles
Everyone wants to know about great ways to make money from home. Sadly, there are no get rich schemes that are (a) legitimate or (b) actually work. But, there are many legitimate ways to start making money from home, and if you like writing, then there are plenty of options available. You could of course create your own website and monetise it (find out more about that here).
You could also make money writing articles for other people, and there are a range of sites that I'll introduce to you to, to show you just how to do that. The fact is, there are tonnes of blogs and websites that pay people to write content. Depending on how much you want to write, you could apply to a number of sites and write for many simultaneously, earning yourself a part-time or a full time income.
I won't be reviewing all the sites that pay people to write, just a selection of the ones I prefer.
iWriter
Website: https://www.iwriter.com
iWriter would have to be one of the most popular article writing sites right now.
Joining iWriter is quick and easy. All that's required is your name and email address. Once you're in, you'll notice that there are three levels of 'writer status'. These are Standard, Premium, Elite and Elite Plus. What you get paid per article will depend on your writer status.
Standard writer
The following shows the word count and the Standard writer earnings:
150 words, $1.01
300 words, $1.62
500 words, $2.43
700 words, $4.05
1,000 words, $6.08
Premium writer
The following shows the word count and the Premium writer earnings:
150 words, $2.23
300 words, $3.65
500 words, $4.46
700 words, $5.79
1,000 words, $8.51
Elite writer
The following shows the word count and the Elite writer earnings:
150 words, $3.44
300 words, $5.67
500 words, $8.10
700 words, $10.13
1,000 words, $14.99
You can fast track through the iWriter program in two ways. You can either apply and pay a fee, or work your way up.
Applying to fast track
By applying and paying the application fee of $197, you can fast track the process. You will be asked to write three articles based on the keywords given to you. Your articles will be reviewed and given a star rating. An average rating between 4 and 4.6 will promote you premium immediately. An average of 4.6 and higher will grant you elite writer status.
Working your way up
To become a Premium writer, you must have a minimum of 30 reviews and an average of a 4 star rating, out of 5. To become an Elite writer, you must have a minimum of 30 reviews and an average of a 4.6 star rating (or higher) out of 5. The time taken to do this will depend on how much you write.
The reason that iWriter have the tiered system is to ensure the quality of their writers.
The articles that you can write will depend on your writer status. Here's an example of one for an Elite writer:

Payments are made via PayPal.
ContentMart **Updated 12 August 2018**:
Contentmart will be retiring on 22 August 2018. As such I have removed details of how to set up an account and submit jobs etc.
Here is the statement released by ContentMart:
"On a technical note, this month, we will be settling down all the open accounts and tickets by 22nd August 2018. Also, all the client and writer information will be permanently deleted from the servers effective after closing project.
Here's what you need to know:
If you have a Client Account:
You will not be able to create any order
You will not be able to refill your wallet/deposit funds
Place a refund request using "Balance" menu before 22nd Aug, 2018.
If you have a Writer Account:
You will not be able to place any bid/proposal
Payment will be released every Thursday for all the withdrawal requests received (Our standard scheme remains unchanged for processing payments)
We request you to co-operate with us for smooth closure."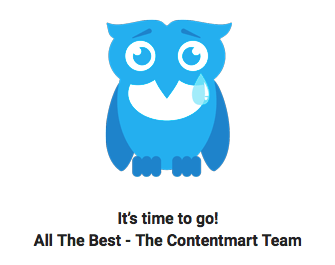 Fiverr
Website: https://www.fiverr.com

Fiverr is huge, and not just for writers. Fiverr is an online marketplace where buyers and service providers come together and offer services and bid on services:

As a provider, you can offer your services in any of these categories.
Services are provided from $5 and up to $995, and as a service provider, you negotiate the price. The price will depend on the size and complexity of the work, the turnaround time, and the number of others within the Fiverr platform who can offer the same services.
Here are a couple of examples within the writing category:

It's free to sign up to Fiverr as a buyer or a seller, and you will need to become a registered member before being able to buy or sell.
Sellers are restricted to posting a select amount of active gigs based on their level:
30 gigs for top rated sellers
20 gigs for Level 2 sellers
10 gigs for Level 1 sellers
7 gigs for sellers without a Level status
You get to keep 80% of each transaction, so you'll need to factor that into your pricing. Once you complete a buyers order, the money is transferred to your account.
Textbroker
Website: https://www.textbroker.com

To get started, you need to do a sign up article. The editors at textbroker will give you an initial author rating. You are provided with regular feedback so that you can improve your rating over time.
Like other writing platforms, your pay is based on your rating.
The pay scale at textbroker is much simpler than others, and is as follows:

Open orders relate to you being able to choose the projects you work on that are listed for your quality rating. You are then paid based on the word count associated with your quality ranking.
Direct orders occur when you are engaged directly to do a piece of writing based on your author profile and your track record at textbroker. In this scenario, you set the price per word regardless of your quality rating. It is very worthwhile to spend time on your author profile so that you can be approached with relevant and high paying direct orders.
Team orders are where you write as a team member. You can join as many teams as you like.
When you are getting started, it is best to go for open orders.
There are loads of other platforms where you can sign up as writer (and of course as business owner, engage writers). I won't go into them but here's a few that you can go and research and sign up to if you think they are worthwhile:
Freelancer: https://www.freelancer.com
Cracked: http://www.cracked.com
A List Apart: http://alistapart.com
Website owners can benefit from engaging writers
If you are a website owner, you can pay others to write some content for you. If you have a number of projects going on, this can be a very effective way to keep up with your content. As we all know, in order for our sites to rank, content needs to be flowing.
What writing platforms have you used in the past, and what has worked for you? Leave me a comment or a question and I'm happy to help.